About Us
Kathy and David Blackwell have published over 60 books for young string players with Oxford University Press.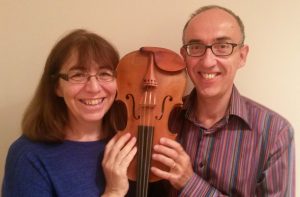 These include the progressive repertoire and technique books of the Fiddle, Viola, and Cello Time series, and books of pieces for junior string ensemble. In 2017 they received an ESTA UK award in recognition of exceptional services to string teaching, and later the same year an award for their significant contribution to music education from Oxfordshire County Music Service. They have twice won the UK's Music Industries Association award for Best Education Publication.
Kathy Blackwell, B. Mus. (Hons.), LTCL, LGSM, studied music at Edinburgh University and continued with post-graduate studies in music at the University of Oxford. Kathy is a string teacher with many years' experience of teaching violin and viola. She was a strings consultant for the ABRSM Music Medals, and a contributor to the accompanying book All Together! Teaching music in groups (ABRSM, 2004). She has worked for Music Services and privately and her teaching experience has led her to co-author Fiddle, Viola, and Cello Time with her husband, David.
David Blackwell, B. Mus. (Hons.), studied music at Edinburgh University. He has written and edited a wide range of educational music for strings and for piano, including Piano Mix and Piano Star (ABRSM), The Foundation Pianist (Faber, 2 vols.), Get Set Piano Christmas Crackers (HarperCollins) and pieces in OUP's Piano Time series. His choral and organ music is published in the UK and America, and includes Carols for Choirs book 5, In the Mood and Oxford Hymn Settings for Organists, six volumes of hymn preludes.