Portuguese duet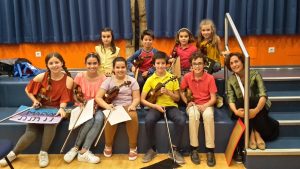 This duet can be played as a violin, viola or cello duet, or with all instruments playing together. 'Alecrim' is the Portuguese word for 'rosemary', the herb. The second part suggests a guitar accompaniment.
Alecrim – violin    Alecrim – viola    Alecrim – cello
This picture is of Rita Mendes and some of her pupils from Estoril, Lisbon. Listen to them play 'Tiptoe boo!' here.